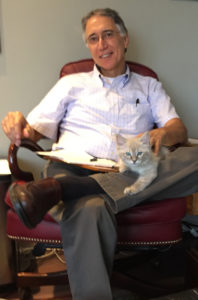 I am a psychiatrist in private practice in Portsmouth, NH with more than 22 years of experience assisting patients of all ages. (In fact, I am one of the few in the area experienced in working with children and adolescents.)
I am Board Certified by the American Board of Psychiatry and Neurology in adult, adolescent, and child psychiatry, and am very skilled when it comes to using medication in treatment.
I accept child, adolescent, and adult patients.
Some of the conditions I treat include:
Depression
Bipolar Disorder
Dysthymic Disorder
Attention Deficit Hyperactivity Disorder (ADHD)
Oppositional Defiant Disorder
Conduct Disorder
Post-traumatic Stress Disorder (PTSD)
Generalized Anxiety Disorder
Obsessive-Compulsive Disorder
Panic Disorder
Binge-eating Disorder
Social Phobia
Phobias
Adjustment Reaction
Postpartum Depression
Postpartum Obsessive-Compulsive Disorder
Seasonal Mood Disorder
Autism
Asperger's Disorder
Insomnia
I am a published author in these subjects: Post-traumatic Stress Disorder, Attention Deficit Hyperactivity Disorder, and EMDR.